This is the single most important book of my life.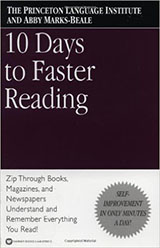 It doubled my reading speed from 300wpm (which I thought was already pretty good) to 600wpm with the same or better comprehension.
If only I had read it when I was 10 I could have learnt so much more in my life so far!
I have no fear of big thick books now because I know after one session I'll be a quarter of the way through with just 3 quarters to go.
It is the first in a series of 90 books I'm reading

.
Update: November 2009
Thanks to this book I have been able to read 60 of the 90+ books in the list in the last 12 months.
Update: November 2009
I called the author Abby Marks-Beale today and got to thank her for her book. I think it was a special moment for both of us.