The bigger the footprint of your business, the more you have to pay for rent/lease, right?
What if you could downsize your business to the size of a shipping container?
In the last 3 days I've come across 3 businesses that have done just that.
#1: A drum school in the back of a small truck
I had just dropped my boys off at their primary school and came across a small truck in the staff parking lot.
I peeked inside and met Phil Upton.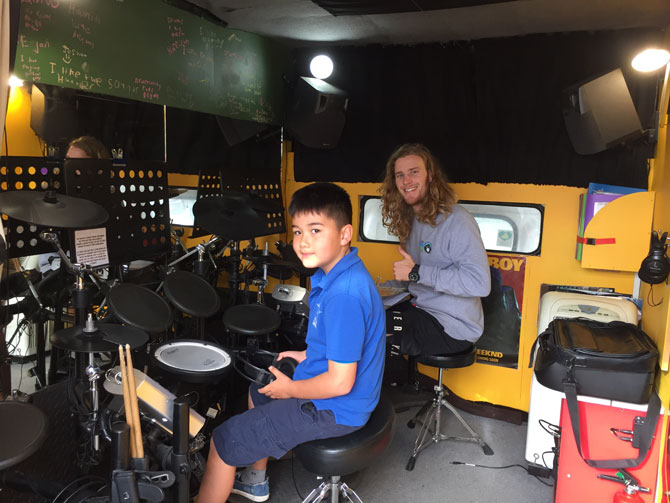 Phil teaches school kids the drums out of his truck which is set up with 3 electric drum kits.
He can teach up to 3 students at a time.
He serves schools throughout Tauranga for weekly lessons.
He bought the business off the previous owner, rebranded, got the truck signwritten, did some promotion, and tripled his business in a few months.
The kids love it because they get out of class sometimes to practice.
The parents love it because they don't have to drive their kids anywhere outside of school hours.
And Phil loves it because he's doing what he does best – teaching kids how to play.
Everybody wins.
#2. A e-bike hire business in a shipping container
I was in Wellington for the weekend and found a notice on the board at the YHA that offered e-bike hire down at Shed One beside the water.
Switched On Bikes was easy to find and the price was excellent, just $20 for an hour.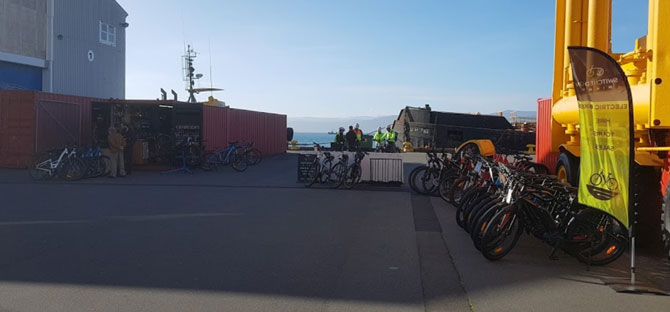 They told me "Take as long as you like, if you are over an hour we'll just work something out when you get back".
I was another hour over time and he said "$10?" and I said "Yes!".
I zipped up Mount Victoria easily (I left the e-bike power at max).
The photo isn't very flattering, but what I thought was remarkable is that their whole business packs down into their shipping container.
The bikes hang up on hooks when packed away, and every morning they unpack the container to set up their sales desk, workshop and a rack of supplies, and line up their rental bikes and bikes for sale outside.
They love it because their rent is cheap and their location is great.
Renters like me love it because their location is easy to get to, and their prices are cheap.
Everybody wins.
#3. A restaurant run from a truck
What if you could run a restaurant from a truck?
Of course, you know I'm talking about food trucks.
I love food trucks for 4 reasons:
They are delicious and gourmet

You just can't get their food anywhere else
You know their food is amazing and unique because the un-tasty, un-original ones go out of business quick because word gets around

They are great value for money

They are not "cheap" but they are certainly cheaper than a restaurant or cafe
They do save money not paying for a building, but they only make their money in short bursts a few times a week when they have a crowd of people

They are mobile

You might see your favourites at the next event you go to, or a new food truck to try

They are fun! They often have:

A really fun attitude
Excellent service
Bold colours and designs in their signage
Creative names of their dishes
It's even fun queuing up for one because they have such a buzz about them
(I love them so much I actually created a website about them and now have 140 NZ food trucks in my list.)
A local example is Tia's Tacos is run by Erica Morales-Neville here in Tauranga. Her food is delicious, her branding is cool, and her prices are great.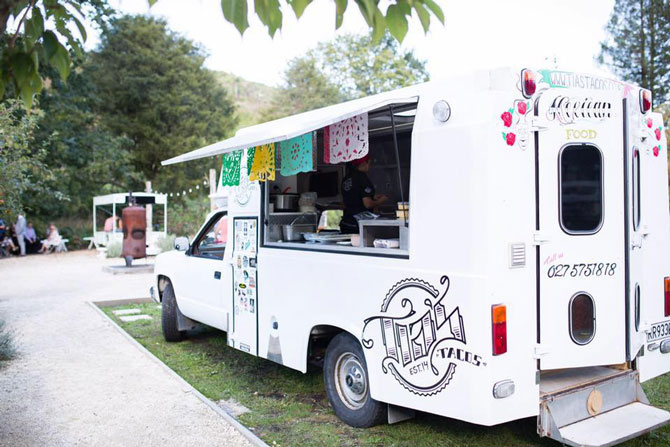 Erica loves it because she has the lifestyle she wants.
We love it because we get to eat her delicious food for cheap.
Everybody wins.
Your Thoughts?
Could you shrink your business to the size of a shipping container?
Could it fit in the back of a truck?