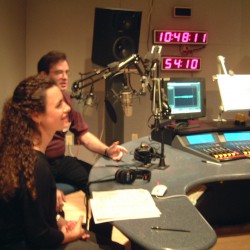 Radio interviews can be a fantastic way to spread awareness of your business to a wider audience.
And perhaps best of all, they're free!
They will, however, require some effort to organize and prepare for.
1. How to get the interview in the first place
This is the hardest part.
Remember not to approach the interview as an advertisement, but rather as something that will interest and benefit radio listeners. As a business owner, you are in a position to comment on your industry.
Think about what kind of audience will be interested in your business.
Look into local radio and whether they have any segments relevant to what you have to say.
Many radio shows will have talk sections on business or local news.
Once you have a radio show in mind, you need to get in touch with the host or producers.
Look at the station's website for contact details. You can try calling or emailing.
Radio hosts are busy people, so you may need to politely follow up to ensure that they notice your pitch.
Whatever mode of contact you choose, include a description of yourself and your business. Then convey why talking to you will be interesting for their listeners.
What new ideas do you have to talk about?
Or how can you help their listeners find better deals or services?
You may also want to include a list of questions they can ask you, making the potential interview even easier for them.
2. How to prepare and make the most of your radio interview
Make sure to prepare for your interview.
Think of answers to the questions you provided, but don't assume the radio host will stick to the list.
Think if there are any tricky questions the host might ask and how you might answer.
A good idea is to have a friend or family member do a practice interview with you, so you'll have polished answers ready.
Remember that the appearance of confidence and a sense of humor will get you far.
You should also think about the key message you want to send.
What do you want listeners to remember about you and your business?
Then make sure that you refer back to this key point more than once, and your audience will certainly remember it and you.
3. Ensure you thank the radio host afterward
After your interview, make sure to send a thank-you note or email to the host.
Radio shows have a lot of time to fill, and they may ask you to come back again one day!
Your Thoughts?
Have your say in the comments below.