I moved into the Basestation Co-working space mid-January 2015 after being at Studio64 for 2 years.
A few weeks into it I got the feeling that something wasn't quite right. There was something missing, but I couldn't figure out what it was.
It wasn't until I visited Studio64 during lunchtime and we poked fun at each others lunches, had a few laughs, bounced around a few ideas…
That was it!
At Basestation I'd pop into the lunch room at 12pm and sometimes see someone whilst I wolfed down my lunch in silence, sometimes not, sometimes eat alone, sometimes one person would join me.
I'd had enough of that.
I knew that lunchtimes can be the most fun of the day, so I sent out this email to everyone at 9am the next morning:
—
Subject Line: New lunch time protocol starts today at 12noon
—
Hiya team, I've got great news!
We work in a co-working space so that means that, starting today, we are going to start having lunch together at 12noon. Yay!
We'll talk a bit of business, a bit of family, have a few laughs, tease each other about our lunch choices, brainstorm new ideas, get a different perspective on things, get to know each other better.
See you at 12noon today and every day from now on!
And the best thing is you don't have to set an alarm or put it in your calendar because I will come to your work station at 12noon everyday to remind you about your duty as a co-worker.
Cheers,
Sheldon.
—
How did it go? Very well indeed. Here's a couple of photos: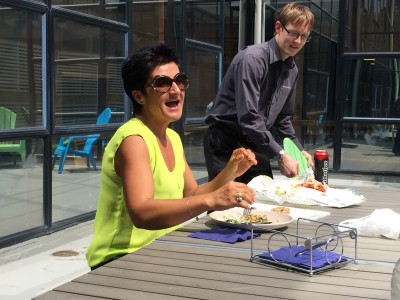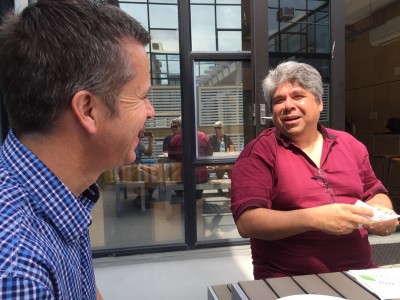 I rounded up everyone for about 3 weeks until the habit formed, and now, even on days when I can't get there myself, we all have lunch together. Yay!
If you'd like to find out more about life in a co-working space come to this information evening:
Sheldon Nesdale
Co-working Expert, Basestation, Tauranga, New Zealand.