We live in a digital age.
There are more ways to communicate than ever before, but perhaps we are in danger of shallowing out our relationships with people if we rely on digital tools to replace our face-to-face interactions.
That's why I love organising events.
Bringing people together in the same room, helping strangers meet each other and become friends, that's one of the reasons I'm here on this earth.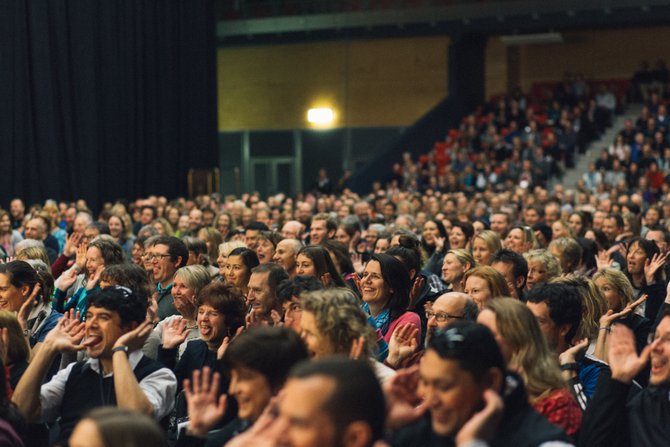 If you'd like to organise a gathering for 10 people, you probably won't need this checklist.
But if it's for 100 people, or 1000, then this checklist is a great starting point.
Rather than answer these questions solo, it's better to get 1 or 2 others who are keen to run the event with you.
Have a sit down for a couple of hours and work through this list.
I hope it helps.
12 Questions To Help You Organise Your Next Event
On what date/time will the event be?

You can change this later, but it needs to be the very first decision you make. It gets everything moving

What's the purpose of the event?

To create relationships?
To inform?
To ensure we all share the same vision of the future?

What does success look like?

It's about making memorable moments
How are you going to measure success?

General vibe on the day?
Short online survey?
Gather testimonials?
Monitor how long people talk about it in the weeks/months that follow?

What's your budget?

For how many people?
Selling tickets?
Taking donations?
Finding sponsors?
What's the $$ value of a successful event and the flow-on effects?

Staff retention?
Client loyalty?
Stakeholders with a deeper understanding of the organisations purpose and long-term objectives?

How will you structure the content?

Blocks
Breaks
Fluff
Memorable bits

Have you built in moments for appreciation for honouring individuals for their contribution?

Might some of those moments cause a tear or 2 to be shed?

What will the attendees remember about your venue?

How do you make an impact when they first walk in?
Or when they walk out at the end?
Other considerations:

Size
Atmosphere
Seated/Standing

What will the attendees remember about your catering?

Have you chosen quality beverages and catering that add to the mood?
How often will we hear "Mmmm this is nice"?

How can you make it memorable?

Are there elements of emotional connection?
Have you allowed room for semi-structured spontaneity?
Who's taking photos/videos?
How will we report on the event afterward?

Report/Newsletter/Email?
Facebook photo album?

Who's running the show?

An internal or external MC?

What would you improve next time?

Schedule in a debrief just a few days after the event
Collect ideas for improvement for next time
Create a wrap-up to-do list

How will you report on the event?

Doing so, makes "selling" future events so much easier
Collect written testimonials & video testimonials on the day (or shortly after)
Include lots of photos of people having a great time
Send it out 1 or 2 weeks later to everyone who came (so they can re-live their favourite moments)
Your Thoughts?
What do you think?
Have your say in the comments below.