It's likely that today you will get a few visitors to your website. Congratulations!
Did you know you have 60 seconds or less to deliver answers to their questions or they will wander off to your competitors?
Here are the top 5 questions your website visitors are wondering.
Does your website answer these 5 questions? How quickly? What improvements could you make?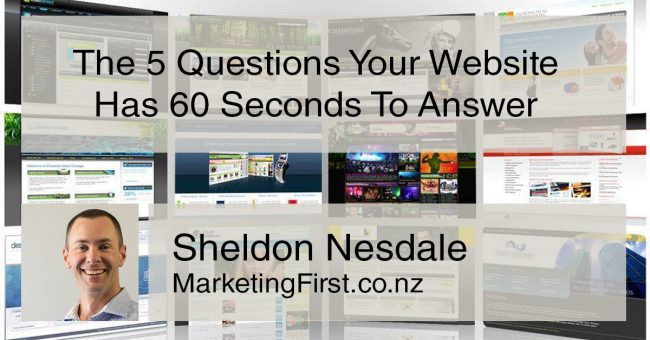 1. "What do you do?"
Your website has 5 seconds to answer this question.
Do you have a single sentence in a large font near the top of the page?
2. "Can you help me?"
Either the website visitor is actively looking for a solution to a problem, or they are receptive to what your services are that might remind them to fix or improve something in their business.
You have 15 seconds to answer this question.
They are looking for a match between what it is you do, and what it is they need.
Do you list your services in bullet points? Can they click on each bullet point to find out more?
3. "Do I trust you?"
You have 20 seconds to answer this question.
What builds trust:
Backing up your claims with proof (not just stating the services you provide, but proving you are experts with details)
Lots of testimonials from businesses/people similar to them
4. "How much will it cost?"
You have 10 seconds to answer this question.
Sometimes people are desperate for a result and want their problem fixed once and done right. They are willing to pay top dollar.
Sometimes people are not in that much pain, there are many ways to solve it, it's not urgent. They might be willing to pay a reasonable price.
Sometimes people just want something off their to-do list that's been there for a long time, they are willing to give it a shot and try something new. They might be willing to pay a low price or delay the transaction indefinitely.
Either way, if you are not prepared to provide examples of pricing, you can still leave a few clues to indicate what level of provider you are:
Do you quote for projects before they start?
Do you spread payments over a few months?
Do you work together long term, not just one-off?
5. "What do I do next?"
You have 10 seconds to answer this question.
Sometimes the website visitor gets bored or tired and just wants to talk to a human.
Sometimes they find what they want, have confidence that you are right for them.
What action do you want them to take next?
Pick up the phone and call you? Fill in a form? Sign-up for a newsletter or download a white paper?
Once you've decided, put that call-to-action everywhere. In the header, in the footer, in the sidebar, at the end of sales paragraphs that make a strong pitch.
Do I take my own advice?
In this video I do a review on my own website:
Your Thoughts?
What do you think of this advice?
What other questions are on prospects minds that I didn't include here?
Have your say in the comments section.
If you found this article helpful, who will you share it with?