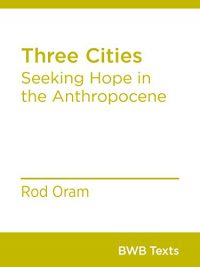 "Orthodox is obsolete; conventional is kaput. We thought we knew how we make economics, politics, technology and nature work for us. But increasingly, they are failing to run by the rules and systems we've honed over recent decades. Boom-bust economies, fractured and destructive politics and a deeply degraded ecosystem are just some of the symptoms."
"Pioneers around the world are seeking new values, systems and technologies. Thus equipped we might achieve the unprecedented, speed, scale and complexity of change we need to meet the immense challenges of the twenty-first century."
"In this BWB Text acclaimed business journalist Rod Oram travels to Beijing, London and Chicago to meet some of these pioneers and report on their setbacks and progress. Because if 10 billion people are going to live well on this planet in 2050, we're going to have to fundamentally change the way we do things."
I've taken my favourite passages from the book and wrapped them in quote marks and added a headlines to introduce these parts. Sorry if it seems a bit dissjointed!
I encourage you to get your own copy and read it through because you are likely to find different parts interesting.
Here are my notes on the book "Three Cities: Seeking Hope in the Anthropocene" by Rod Oram.
---
How Many Londoners Were Killed By Smog In December 1952?
"Only with the Clean Air Act of 1968 did the UK finally banish choking smogs. With particulate levels two to three times worse than in Beijing today, the Great Smog of December 1952 killed 6,000 Londoners. On a bad day in Birmingham my 7-mile bus ride home from school was a ninety-minute crawl through the acrid, preternatural darkness."
How Do You Prevent Bird Strike? Falcons.
"To keep military aircraft safe in their thunderous flypast, the sky was purged of birds by teams of man-handled falcons, hawks, dogs and monkeys. 'Five macaques in my team can tear down twelve bird's nests a day,'"
Winnie the Pooh In A Toy Car
"As the limo moved slowly past, the upper half of the president poked stiffly through an opening in the roof. Almost instantly an image of Winnie the Pooh in a toy car flashed up on Sina Weibo, China's Twitter. It would be shared over 65,000 times in the seventy minutes it took censors to spot and delete it, making it the most censored Weibo post of 2015. (The Winnie fun on Weibo began in 2013 after someone spotted how much presidents Xi and Obama, meeting in California, looked like Pooh and Tigger.)"
How Long Does It Take An Army To Walk By?
"It took ninety minutes for 12,000 Chinese troops, accompanied by 1,000 soldiers from seventeen countries, and convoys of weapons to parade down Chang'an Avenue and through Tiananmen Square."
"Many other far bigger economic issues dominate global concerns about China. Most crucially: Can it rapidly and deeply shift from an economy driven by mammoth investment in infrastructure and booming exports powered by cheap labour and energy to a far more resilient one driven by high technology, a sophisticated services sector and by consumption?"
18 Changes In The New Zealand Economy
Exports are slowing.
So, we're promoting domestic consumption.
The pool of cheap labour is shrinking.
We're promoting innovation.
Heavy industries are burdened by excessive capacity.
We're building high-tech industries.
Shadow banking has burgeoned.
Government has made banks bring assets back on their balance sheets and increase their capital.
Local government debt is soaring.
Central government is turning some of it into bonds.
Local government has over-invested in infrastructure.
Now they are investing in Public Private Partnerships and allowing more private sector investment.
Residential property prices are falling in some places.
This is no threat to banks, because mortgage borrowers have to make large down payments.
Urban consumption growth might slow a bit.
But rural incomes and consumption are booming.
Society is ageing.
This is creating fast-growing sectors such as medical, tourism, cultural and education.
The Leap From Heavy Industry To High Technology
"In essence China is attempting to leap from heavy industry to high technology, from the second wave of industrialisation to the fourth. Many developed countries are attempting the same feat. But they have an easier jump from the third wave, from sophisticated manufacturing and services.
Two months before I visited, the local government announced a plan to build a megapolis over the coming decades. This will include the twenty million people living currently in Tianjin, the port city 140 kilometres to the southeast, and vast swathes of Hebei province around them both. Known as Jing-Jin-Ji from the names of its three parts, the 212,000-square-kilometre region will be home to 130 million people. The Kiwi equivalent would be twenty-nine times our current national population living in the lower half of the North Island plus the South Island.
The pace of urbanisation is accelerating. Only 17 per cent of people lived in cities when China began its modernisation in 1978; 55 per cent do so now and 75 per cent will by 2050. Accommodating another 350 million urban dwellers over the next couple of decades will mean building around the country the equivalent of one New York metropolitan region every two years.
Each month hundreds of thousands of Beijingers, eager to take to the city's six grid-locked, concentric motorway ringroads, are disappointed when they fail to win the right to buy one of 20,000 new registrations for petrol or diesel cars in a lucky draw – though they can buy electric cars unfettered. Chinese electric-vehicle sales quadrupled in 2015 to 330,000, three times the volume of electric-vehicle sales in the US.
In 2008 alone the Chinese bought twenty-one million e-bikes and e-scooters compared with a mere 9.4 million petrol and diesel cars."
Who still uses coal in New Zealand?
"Fonterra. Which makes me grumpy. The dairy co-op is New Zealand's second-largest coal user, thanks to burning the fossil fuel to dry a third of the 20 billion litres of milk it processes every year. The company even strip-mines some of its own coal."
How do you beat emission tests? Cheat
"The US Environmental Protection Agency (EPA) announced Volkswagen had installed a software device on some 500,000 car engines in the US to defeat emission tests."
What is a circular economy?
"LanzaTech hit on the idea of capturing carbon monoxide from the smoke stacks at the New Zealand Steel mill, south of Auckland, bubbling it through water and using bacteria to ferment it into ethanol as a fuel and a building block for plastics.
They are examples of the circular economy, in which the waste material from making one product becomes the raw material for making another."
The top 3 environmental problems are selfishness, greed and apathy
"'I used to think the top environmental problems were biodiversity loss, ecosystem collapse and climate change,' Gus Speth, the distinguished US environmental advocate, told a BBC radio audience in 2014: I thought that, with thirty years of good science, we could address those problems.
But I was wrong.
The top environmental problems are selfishness, greed and apathy.
To deal with those we need a spiritual and cultural transformation, and we scientists don't know how to do that."
What NZ can do to reduce carbon emissions
"Every sector in New Zealand has substantial, economically beneficial opportunities to reduce their carbon emissions.
Here are some of the ones I think are worth immediate action:
Electricity

A much faster transition to a Smart Grid, incorporating greater two-way electricity flows, local battery storage, local renewable generation from photovoltaic panels, small-scale wind and hydrogeneration, and local energy trading.
Such a grid would enable New Zealand to benefit more quickly from changing technology and economics, while also increasing the resilience of the grid.

Transport

'Fee-bates' to incentivise a shift from higher emission cars to lower emission ones and electric vehicles.
The greater a car's emissions, the higher tax on it.
The government recycles the revenue into rebates for owners of cars with low or no emissions.
Government and business allying with one or two major electric-vehicle manufacturers to make the country a development market.
Working with LanzaTech on drop-in hydro-carbons.
These are synthetic substitutes for conventional diesel and petrol for heavy vehicles, the existing car fleet and aircraft.

Industry and households

Significantly higher energy efficiency standards for appliances and industrial, commercial and residential buildings.
Greater financial and practical support for energy efficiency programmes, led by the Energy Efficiency and Conservation Authority.
Rapid take-up of biomass for industrial process heat.

Agriculture

Greater funding for the New Zealand Agricultural Greenhouse Gas Research Centre, which is seeking ways to reduce methane emissions from ruminant animals
Establishing a commercialisation arm to fast-forward practical applications of the centre's science.
New Zealand, as the originator and secretariat of the Global Research Alliance on Agricultural Greenhouse Gases, leading in lifting the ambitions and investment of member countries in order to sharply accelerate the Alliance's progress.
Phasing of agriculture into the Emissions Trading Scheme, starting now, to help incentivise new science and farm management techniques for reducing agricultural greenhouse gas emissions.
Big-ticket research on measuring, managing and certifying soil carbon, so farmers can be rewarded in the Emissions Trading Scheme for increasing soil carbon, thereby improving plant productivity, farm emissions profiles, and farm economics.
Government and industry building brands around this drive for agricultural sustainability, such as incorporating emissions and water standards, to counter the likes of Origin Green, the Irish agricultural sustainability standards and brand.

Forestry

A big strategic push for downstream forestry products such as engineered structural building materials, coupled with carbon sequestration measurement and certification so the materials earn credits for storing carbon dioxide.
Leading development of international systems for such downstream carbon sequestration, measurement and certification.
Making a big push on using biomass for industrial heat, and converting into liquid fuels.
Improving policies and incentives for planting of permanent native forests.

Carbon-neutral tourism

Government working with Air New Zealand, the tourism sector and Enviro-Mark (the Landcare Research subsidiary) to develop carbon-neutral tourism.
Under the programme, international travellers would voluntarily offset the carbon from their air travel and other activities.
For example, at $20 per tonne of carbon, the offset per passenger on return flights between London and Auckland would cost $120, and Shanghai to Auckland return would cost $60.
For $250, say, a tourist could completely offset the carbon expended by their flights and activities by using Enviro-Mark's carbon calculator, and then buying credits in the local native bush regeneration projects Enviro-Mark measures and monitors.
All these projects would deliver substantial economic and environmental benefits.
But at best only a few might happen, because society is so divided over how serious the current unsustainability is."
Your Thoughts?
Did you find my notes helpful? Have you read the book yourself? Have your say in the comments section below.
Three Cities is a "BWB Text". BWB stands for is "Bridget Willams Books", the publisher in NZ.
"BWB Texts are short books on big subjects from great New Zealand writers.

Read on smart phones and e-readers, tablets and as snappy paperbacks, BWB Texts is fast becoming one of New Zealand's most influential platforms for discussion, ideas and critical analysis.

Over 35 Texts are now available and we're releasing more every month. The latest list can be viewed here: www.bwb.co.nz/books/bwb-texts

BWB Texts is a non-profit programme made possible by the BWB Publishing Trust and with support from Copyright Licensing New Zealand and Creative New Zealand for selected titles."