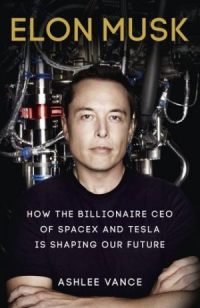 This is one of the best business books I've ever read (and I've read a lot)!
There are 3 reasons why I liked it so much:
It mashes together several interests of mine:

Technology
Entrepreneuriship/start-up companies
The future of our planet
Electric cars, autonomous vehicles, and the future of transportation
Solar power
and space travel

It is superbly written

(by Ashlee Vance, a business columnist who has written for many major publications)
Vance steps back and forth between present day and the past with flashbacks that bring real depth and understanding of Elon Musk's story, his background, his motivations and his relentless drive

It fills me with hope

It's the same reason I love TED videos too, because they fill me with hope about the future of the human race
Musk has found a way to make things the planet needs (electric cars powered with solar power as an alternative to burning fosil fuels, a plan for colonising another planet incase we screw this one up), and making billions of dollars in the process that he feeds into his next idea
That a person can have several epic ideas as a kid and see them come real in his own lifetime thanks to his own hard work (I hope my kids have the same experience)
With these book summaries I always nudge you towards getting your own copy to read yourself, but with this one more so.
In the meantime, here are just a few of my favourite parts of the book "Elon Musk: How the Billionaire CEO of SpaceX and Tesla is Shaping our Future" by Ashlee Vance.
—
"One thing that Musk holds in the highest regard is resolve, and he respects people who continue on after being told no."
"During a time in which clean-tech businesses have gone bankrupt with alarming regularity, Musk has built two of the most successful clean-tech companies in the world. The Musk Co. empire of factories, tens of thousands of workers, and industrial might has incumbents on the run and has turned Musk into one of the richest men in the world, with a net worth around $10 billion."
"Musk has taken industries like aerospace and automotive that America seemed to have given up on and recast them as something new and fantastic."
"Outside of his studies, Elon would read the newspaper alongside Kimbal, and the two of them would identify interesting people they would like to meet. They then took turns cold-calling these people to ask if they were available to have lunch."
"[Musk] viewed the Internet, renewable energy, and space as the three areas that would undergo significant change in the years to come and as the markets where he could make a big impact."
"Where a typical manager may set the deadline for the employee, Musk guides his engineers into taking ownership of their own delivery dates. "He doesn't say, 'You have to do this by Friday at two P.M.,'" Brogan said. "He says, 'I need the impossible done by Friday at two P.M. Can you do it?' Then, when you say yes, you are not working hard because he told you to. You're working hard for yourself. It's a distinction you can feel. You have signed up to do your own work."
"The total cost for Dragon came in at $300 million, which would be on the order of 10 to 30 times less than capsule projects built by other companies."
"One of my favorite things about Elon is his ability to make enormous decisions very quickly. That is still how it works today."
"There is a fundamental problem with regulators. If a regulator agrees to change a rule and something bad happens, they could easily lose their career. Whereas if they change a rule and something good happens, they don't even get a reward. So, it's very asymmetric. It's then very easy to understand why regulators resist changing the rules."
"The only decision that you have to make when you come to one of our Tesla stations is do you prefer faster or free," Musk said.
"The sixty-billion-dollar bullet train they're proposing in California would be the slowest bullet train in the world at the highest cost per mile," Musk said. "They're going for records in all the wrong ways." California's high-speed rail is meant to allow people to go from Los Angeles to San Francisco in about two and a half hours upon its completion in—wait for it—2029. It takes about an hour to fly between the cities today and five hours to drive, placing the train right in the zone of mediocrity, which particularly gnawed at Musk.
"It bothers Musk a bit that his kids won't suffer like he did. He feels that the suffering helped to make him who he is and gave him extra reserves of strength and will."
"He seems to feel for the human species as a whole without always wanting to consider the wants and needs of individuals. "
Your Thoughts?
Have you read this book? What did you think?