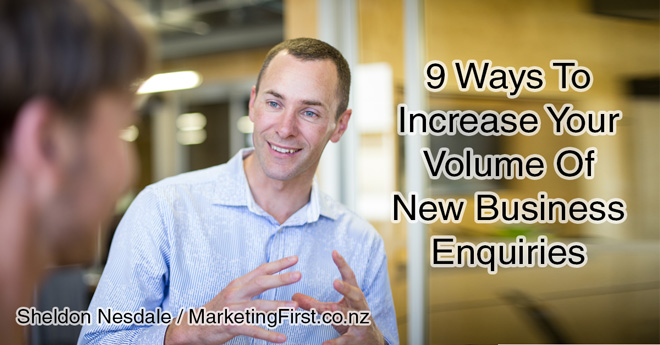 1. Take a fresh look at what you say
Review (and improve) what you say about your business and your services
On The Phone:

Who answers the phone?
What do they say?
How are calls transferred?
How are messages recorded?
What's the hold music?
How could the menu options be improved?

In Person:

How do you record interactions with prospects and clients?
What do you and your team wear?
How do you follow up?
What action do you ask them to take next?
How does your team answer the question "what do you do?"

On Your Website
In Advertising

What is the secret sauce of your business?
Why does it exist?
Why is it important?
Do you lead with your logo, or a headline that states the benefits of your service?
2. Make it easier for prospects to reach out to you
Is it easy to find your phone number?

Ensure your phone number on every webpage right along the top (and in the footer too), not just buried on your Contact page

Different prospects have different preferences about how to contact you

Some might fire off an email using your contact form if they find you at night because they don't want to disturb you at home
Some might like to send an email from their own email provider so they have a record of what they said
Some might like to call a manager/director on their cellphone instead of the office number

So list every way to contact you

On your contact page, list every single way you can be contacted (include all social media like LinkedIn and Facebook).
Write the list in priority order of fastest response to slowest

What's in your email signature?

In your email signature include all your contact details so if/when prospects and clients forward your emails it's easy for new prospects to contact you
Many people don't include their email address in their email signature but that's a mistake because it forces people to copy/paste that part separately. Save them the hassle
Include links to your best webpages, a link to your 30 second explainer video, a link to your newsletter subscription page
3. Reduce risk and improve trust
Answer common questions head-on

Prospects have lots of questions on their minds that need to be answered before they are ready to make a purchase
If they can't find the answers to these questions, they might not be ready to pick up the phone and call you because they are worried about being "sold to" before they are ready
That's why, including an FAQ's page on your website is a good idea. Answer common questions that prospects might be wondering on there. Don't be afraid to tackle the big ones like "How much do you charge?", "What happens if I'm not satisfied with your service?", "Why should I choose you?"

Improve trust with a reputation page

Add 50 testimonials to your website/marketing material to erase any doubt that you are the best choice

Get articles written about your business in the media

Ask your network for the names of former NZ journalist that are working freelance. Pitch a story to them, or get them to interview you to generate a story
In their service they approach editors of newspapers and tailor your news to their audience
4. Prove you're the experts
Create long-form, high-value articles/content for your website that demonstrates your expertise and draws prospects to you
Once they are in place, Google sends you free traffic to those articles for years
You can re-purpose your new content on other platforms such as your email newsletter, and on LinkedIn
For each service you provide, include these 10 elements:

A long, benefit driven headline (8-16 words long)
Use sub-headings, bullet points, numbered lists, and 1-sentence paragraphs
Teach your readers something new. Provide your insights into this service. Explain it in simple terms, without jargon
Answer frequently asked questions
Outline your 10 step process from initial enquiry, right through to delivering a solution for their problem
Provide 3 or 4 specific reasons why new clients should choose you. Include the relevant experience of specific team members, and the number of clients you've helped
Describe the common pitfalls to avoid
Include testimonials from clients you've helped with this service
Indicate your price range or provide packages to choose from
Specify the next step you want new clients to take (Call you? Fill in a contact form?)

Include a few photos to supplement the text
Include a 2-3 minute video:

Use an interview-style featuring one of your team covering some of the 10 elements of the article listed above
This is particularly powerful because many of us learn visually and videos capture and hold the most precious commodity of modern time: attention
5. Collect email addresses
How?

Feature your signup box prominently on your website
Link to your subscribe form from your email signature
When you meet new people ask them for permission to join them to your email list (take their business card and add them yourself later)

Why?

Sending email works so well because you can use it to educate clients past and present about how you can help them
It keeps your brand in their minds, it builds familiarity, relationship, trust
You've spend years building up a vast email list that you are not utilising effectively
Sending emails is cheap (or free). It's a cheap way to keep in contact with your customers
It's scalable – if you double or triple the number of customers on your email database there is no extra effort for you
It's fast. You can get your first response within minutes
It's measurable. You can test various headlines and offers
It's easy. You can do it yourself

How?

Don't send out a traditional "email newsletter". Send out 1-to-1 personalised emails instead
Continue using email marketing software, but from now on mimic a one-to-one email conversation as closely as possible. That's the secret to effective email newsletters
Here's a checklist to ensure your recipients no longer suspect that your message is one-to-many (which will reduce the impact of your message):

Ensure your "from" address a real person
Write a Subject Line that attracts a click
Use plain text emails instead of designed ones
Decide what action you want them to take
Make it easy to contact you with a detailed email signature
Ensure they can unsubscribe easily
Read more about these 6 tips

What?

What do you say in the emails? Drip-feed the long-form articles you have been creating in #4
6. Write from your customers perspective
Ensure your advertisements (print/radio/web/outdoor etc) are written from the customers perspective and what's in it for them, rather than your perspective and what you are trying to sell
7. It's time for a photoshoot
Remove bland, anonymous, corporate, american stock photography from your website/marketing material
Hire a local photographer to take real photos of your team, your business and your services
8. Set a pattern for your social media activity
Review your social media activity and ask the team member in charge of it to create a template to follow
For example, Monday's could be the day you share a customer success story, Tuesday's you could ask a question, Wednesday's you could share an article you found in your industry, Thursday's you could tell a bit of history about the company or a team member
9. Try Cost-Per-Click advertising
Have you trialed Cost-Per-Click advertising?
Stick with Google Adwords and Facebook and run some experiments
One benefit is that it forces you to create a landing page, and a call-to-action
Instead of hiring someone, nominate someone internally to learn how it works for themselves

They might like to learn a new skill, and the training videos and courses for Google Adwords and Facebook are excellent
Your Thoughts?
What do you think about this list? Got ideas to improve it? Have your say in the comments section below.
Need help working through this list? Here's how I can help. Give me, Sheldon Nesdale, a call on 021 128 5046 and we'll get started.